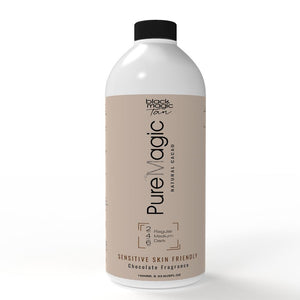 Pure Magic Sensitive Skin
Sale price Price $69.95 Regular price $89.95
Welcome to Pure Magic; one of the most natural tanning products on the market.
If you are looking for a product for sensitive skin Pure Magic is the answer.
Pure Magic is made using all natural and organic ingredients and is free from the synthetic colours found in nearly all spray tan solutions. Most people who suffer from reactions to sunless tanning products experience issues due to the Food colourants used in the bronzers.
Pure Magic will offer a natural looking tan that can be washed off in 2 hours for a nice natural colour or for deep tans can be left on for 6 hours or slept in.
WHY PURE MAGIC:
Wash and wear in as little as 2 hours
Made using all natural and organic ingredients
Free from synthetic colours
Natural Caramel based bronzer
Paraben Free
Alcohol Free
Develops into the most natural looking tan