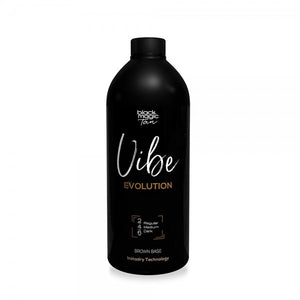 Black Magic VIBE Evolution Brown Based 2-6 Hr
Sale price Price $89.95 Regular price
About This Product
Looking for that Extra Special Tan? 
 
Vibe Brown Base contains a blend of dark bronzers and ingredients to offer that extra dark spray tan.
Vibe Brown Base sprays smoothly and offers a Velvet like finish and can be washed off in as little as 2 hours or left on for as long as 6 for that extra dark tan.
Key Points to Remember
Our unique formulation offers the fastest drying spray tan available without needing to use Petro chemicals, this means it is so much less drying on your skin so less irritating.
Wash Time 2-6 Hours, you choose how dark you want to go.
Vibe Contains No Fragrance - we mean no smell. no odor, yes it's true!
Vibe will not dry out your skin at all
Petrochemical Free, no alcohols for drying agents.
Did we mention No Smell? Yes, we did but it's worth repeating again. 
Super Fast Development - Advanced Development Technology
​