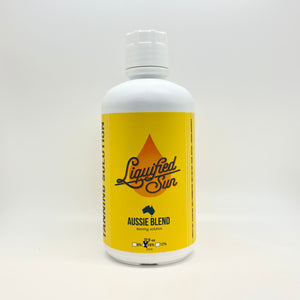 Liquified Sun AUSSIE Blend Solution
Sale price Price $8.95 Regular price $8.95
About This Product
Liquified Sun contains Natural and Organic ingredients and is loaded with intense hydration.
Targeted ingredients assist to lock hydration into the skin for amazing results.

Liquified Sun features Centipeda cunninghamii from the "Timeless Land" of Australia, an anti-inflammatory and anti-microbial native plant extract with excellent cell renewal properties to thwart the physical signs of aging and provide fast and effective relief of skin irritation. Available in two fabulous levels of darkness.
This product is made in the USA with imported ingredients

This Solution Has a Dark Color Guide
Key Ingredients
Organic Aloe Barbadensis 
Dihydroxyacetone
Organic Bergamot Oil
Hyaluronic Acid
Centipeda cunninghamii
Organic Macadamia Seed Oil
Organic Mandarin Orange Peel Extract