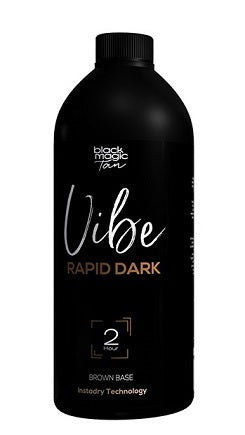 Black Magic Vibe Rapid Brown Base
Sale price Price $89.95 Regular price
Vibe Rapid Brown Base contains a blend a dark bronzers and ingredients to offer that extra dark spray tan, with added DHA and other tanning ingredients for a color that develops faster and darker than ever before.
Vibe Rapid Brown Base sprays smoothly and offers a velvet-like finish and can be washed off from 1-2 hours to achieve an depth of color like no other.
Our unique formulation offers the fastest drying spray tan available without needing to use Petro chemicals; this means it is so much less drying and irritating on your skin.
Wash Time 1-2 hours, you choose how dark you want to go (left on longer could mean overdevelopment)
Vibe Contains No Fragrance - we mean no smell. No odor, yes it's true!
Vibe will not dry out your skin
Petrochemical Free, no alcohols for drying agents.
Did we mention No Smell, yes we did but it's worth repeating again.
Vibe is a professional only solution.