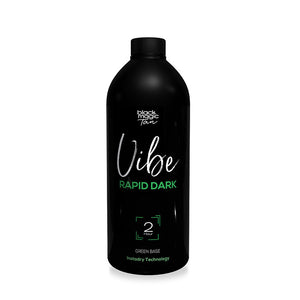 Black Magic Vibe Rapid Green Base
Sale price Price $89.95 Regular price
Description
Directions
More Info
About This Product
Vibe Rapid 2 Hour Dark has been created using Advanced Technology Development to produce a deep dark tan.
Vibe Rapid 2 Hour Dark has a high concentration of DHA and only suitable for clients with a skin type that sits within the three plus category on the Fitzpatrick scale.
For optimum results, Vibe Rapid 2 Hour Dark should be left on the skin for a minimum of two hours and a maximum of three hours before showering. Leaving longer may lead to overdevelopment.
The Vibe range of professional tanning solutions slips over the skin like velvet transforming it into an absolutely stunning color without any fragrance or smell. Instantly dry to the touch Vibe delivers the ultimate client experience.
The characteristics of the Vibe range are unlike anything else on the market.
If you want to build clients then this is the tan for you.
Vibe contains triple bronzers to give you deeper, instant color, longer.  Be prepared though - people often stop consumers to comment on their fabulous tan!
Add it to your salon today and be confident your client will love it.
Features and benefits include:
Green Based
Rapid Tan
Instant Color
Triple Bronzers
Enriched with antioxidants and botanicals
Hydrates and nourishes 
Odorless
Exceptional Drying
Non-Sticky
Lasts 7 - 10 days depending on skin condition.
Directions For Use
This product is designed for use in all HVLP/airbrush systems
Place your machine on a medium speed to high speed 
Place 50mls of Vibe Rapid 2 Hour Dark into the cup of your spray gun, if you are using the Black Magic Tan Deluxe Spray Gun you will need to use approx. 200mls of tanning solution due to the size of the spray gun cup. Excess solution can be poured straight back into the bottle after use.
Your spray gun should be set to ensure a light, even mist falls on the skin. If the gun is up too high you are wasting tanning solution and the clients tan could overdevelop.
Apply two light even coats of Vibe Rapid 2 Hour Dark tanning solution.
Key Points to Remember
On average you should only use 50mls of tanning solution per spray tan.
Too much solution can lead to overdevelopment (you definitely don't want this)
Looking for the Perfect Finishing Touch?
To give clients the perfect finishing treatment you can now apply Tan Lock. Tan Lock hydrates and moisturizes the skin, locks in color while resisting moisture making it an excellent addition to your salon.
Tan Lock is supplied in a 250ml spray bottle. On average each bottle contains enough product for approximately 20 tans…the average return from a liter of Black Magic Tan.
You simply stand back lightly spritz all over the body and dry well.
How to Store Your Solution
Black Magic Tan should be stored in a cool dark place at 20 degrees or lower. It may be refrigerated but must be at room temperature before use to ensure the viscosity of the tanning solution is retained.
How to Prolong Your Spray Tan
If you are traveling or wish to extend the life of your tan longer than normal make sure you purchase our Tan Xtend which will maintain your beautiful color longer as it is Infused with DHA and rich moisturizing ingredients.
Apply daily as per instructions, making sure you wash your hands after use.
Customer Reviews
My customers favorite product
My people love the convenience of a rapid tan. With a 2 hour process, they can continue on with their day. I just always remind them… no moisturizers until tomorrow. When using this product, don't forget to mention that it is a roller coaster ride. I spray them, they love the dark color. They shower and wonder "wait! Where did my tan go?". Then as the day/or night continues they get darker & darker until the reach a beautiful bronze! I repurchase this formula more than any other.