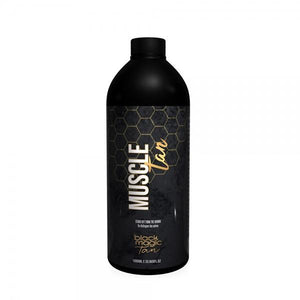 Black Magic Muscle Tan
Sale price Price $89.95 Regular price
Description
Directions
Key Ingredients

About This Product
Black Magic Muscle Tan was created specifically for the body building industry and allows competitors to obtain as dark a tan as needed without fear of over development
Black Magic Muscle Tan is designed to deliver competitors a lustrous, deep, very dark tan, that enhances muscle definition and body contours for the ultimate presentation on stage.
Black Magic Muscle Tan keeps developing over 8 hours and will last between 5 - 7 days or pared back post competition to reveal a natural looking tan.
Our innovative team have created a product that: Provides a complete tanning solution
Hydrating
Gentle on the skin
Moisturizes
Enhances muscle definition & body contours
Odorless
Very fast drying, no tacky feeling
NO Orange
Can be pared down post competition to leave a normal skin tone
Directions For Use
This product is designed for use in all HVLP/Airbrush systems 
Place your machine on a medium speed to high speed 
Place 4 ozs ASAP into the cup of your spray gun. Excess solution can be poured straight back into the bottle after use.
Your spray gun should be set to ensure a light, even mist falls on the skin. If the gun is up too high you are wasting tanning solution and the clients tan could overdevelop.
Apply two light even coats of ASAP solution for a flawless tan. 
Key Ingredients
Black Magic Muscle Tan is formulated with ingredients that are gentle and nourishing to the skin.
Grape Seed Oil: An incredibly strong antioxidant Grape seed oil is about 50 times stronger than antioxidants like vitamin C and E and can also provide protection against sun damage. The linoleic acid found in grape seed oil can be very beneficial in skin conditions like acne, dermatitis, and eczema. Linoleic acid can soothe and nourish the skin, and help it to repair.

Vitamin E - Tocopheryl Acetate: Vitamin E is a potent anti-inflammatory ingredient with excellent moisturizing ability. Vitamin E is an antioxidant that protects body tissue from damage caused by free radicals.

Aloe Vera Leaf Juice
Aloe Barbadensis leaf juice, or Aloe Vera as it is more commonly known, is extracted from the leaves of the Aloe plant. Aloe Vera has been used medicinally by many cultures for thousands of years.
Scientists have discovered over 200 nutritional substances in Aloe Barbadensis leaves, including 20 minerals, 20 amino acids, 12 vitamins, and active enzymes.
Aloe Barbadensis leaf juice can soothe skin and serve as an anti-inflammatory.
It can be efficiently used topically, because of its burn healing effects, scar reducing and wounds healing properties.
Aloe protects the skin from UV damage. The herb contains aloin, which can block up to 30 percent of the ultraviolet rays when applied to the skin's surface.
Aloe also, contains an impressive number of vitamins, including A, B1, B2, B3, B5, B6, B12, C, E, Choline and Folic Acid. These vitamins are great for protecting the skin from free radicals.
Sunflower Seed Oil
Sunflower Oil retains moisture, and in preventing the skin from drying out it helps to keep wrinkles at bay and the skin looking youthful and vibrantly healthy.
It is extremely powerful at keeping away bacteria and maintaining youthful skin. Sunflower seed oil contains a rich mixture of vitamins and other natural substances that have a healthy effect on your skin and its pores.
It is very high in antioxidants, particularly the antioxidant vitamins A, C and E, which prevent free radicals from damaging your skin.
​
Customer Reviews
LOVE this Product!
This is the perfect color every time for a DARK tan! Gorgeous color for Pageants or shows. This is the most consistent product I have ever purchased! All of my clients request this color!
05/27/2020
Darla C.

Canada
Stage color for 12 years
would use no other! Beautiful color on well prepared skin