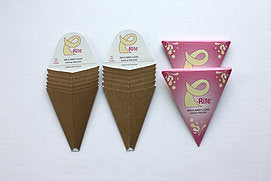 P-Rite Stand To Pee 12 Pack With 2 Holders
Sale price Price $6.95 Regular price
Description
Directions
More Info
About This Product
A Must For Female Competitors!
No More Gross Toilet Seats!

No More Paper Cups at Shows!
No More Dribbles down the Leg!
Completely Hygienic and Easy to Use
May be used standing, sitting or lying down
Who Should P-Rite?
You have a busy life. You work. You travel. You're out and about. And you've seen one too many questionable public bathrooms. 
You're done playing guessing games with the cleanliness of bathrooms. You're so over the possibility of yet another unsanitary experience.
You're ready to take matters into your own hands. 
Packing P-Rite in your purse gives you the confidence to go to any bathroom, any time, and walk away clean. 
Directions For Use
1. Hold against your body and and go. 
Key Points to Remember
When to P-Rite?
We get it. You're busy.
P-Rite TM is perfect for your on-the-go lifestyle!
At the office

On an airplane

In the bar 

After dancing at a nightclub

Sporting events

On a roadtrip

Camping and hiking

Concerts and festivals

Body Building Competitions!

Whenever you're not in the comfort of your own home
P-Rite gives all women freedom! Designed by a Registered Nurse to be the best device on the market for women of all ages, shapes, and sizes who want to pee standing up.
Why is P-Rite the best?
No TP? Dab w/outer absorbent layer

Throw away when finished

Environmentally friendly - it's compostable!

Every order includes one extra device for practice. 
It's that simple!