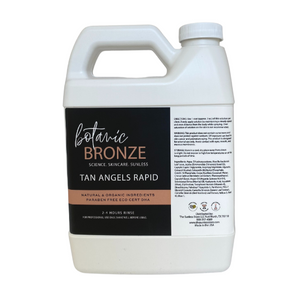 Tan Angels Rapid
Sale price Price $79.00 Regular price
Description
Directions
More Info
About This Product
This deep, dark blend was formulated from our top selling Tan Angels solution, with natural and organic ingredients. Tan Angels Rapid dries quickly on the skin to give your clients the most comfortable tanning experience without the use of denatured alcohol. It is rich with botanicals, skin loving vitamins and anti-oxidants to repair and nourish the skin for the longest lasting color and most natural fade. An added bonus to this blend is the addition of peptides and plant stem cells, normally found in high-end skincare products!
Key Benefits 
Dark Color Guide
2-4 hour recommended rinse time

Coconut Water + Aloe Vera

Infused with Marula Oil, Argan Oil & Jojoba Oil
No Scent
Paraben Free
Formaldehyde Free
Cruelty Free
No Added Alcohol/True Ethanol Free
Propylene Glycol Free
Recommended Rinse Time:
2 hours- Medium
3 hours- Dark
4 hours- Extra Dark
Directions For Use
This product is designed for use in all HVLP/Airbrush systems 
Place your machine on a medium speed to high speed
Place 4 ozs Tan Angels into the cup of your spray gun. Excess solution can be poured straight back into the bottle after use.
Your spray gun should be set to ensure a light, even mist falls on the skin. If the gun is up too high you are wasting tanning solution and the clients tan could overdevelop.
Apply two light even coats of Tan Angels solution for a flawless tan.