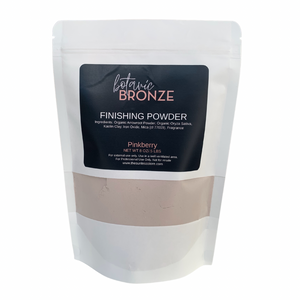 Botanic Bronze Finishing Powder
Sale price Price $29.00 Regular price
Elevate your client's experience by offering Finishing Powder as the finishing touch to complete their spray tan. Finishing Powder is a lightweight body powder, which helps to eliminate stickiness, bronzer transfer and the after spray tan smell, and is especially helpful to set spray tan on areas of the body that naturally crease, like behind the knees, inside the elbows, under buttocks and breasts and underarms. Finishing Powder is tinted and has a light shimmer.
Scents:
Pinkberry: A sweet and delicious scent with notes of strawberry, raspberry, and vanilla with a hint of light musk.
So Fresh, So Clean: A tranquil blend of citrus, cool mint, and herbal musk. The next best thing to a relaxing day at the spa!
Birthday Suit: Bare + unscented 
Beach Santal: The essence of a luxe tropical escape! Coconut milk with woody notes of sandalwood and cedar. *Seasonal
Spiced Apple: Sweet, sugary apple baked with spicy cinnamon and pecan.  *Seasonal 
Talc Free| Paraben Free | Gluten Free |  Phthalate Free | Cruelty Free | Vegan 
Use in a well ventilated area. For external use only. Not for resale- For professional use only.
How to apply the powder:

After applying your custom spray tan, we recommend that you dry your client off with air from your spray tan gun or hose for approximately 1-2 minutes. If you use a thicker solution, we recommend just a little more drying time in wet shiny areas like the chest for example. Feathering the powder over these shinier spots before applying the brush is a great technique. Skin does not have to be totally dry to apply powder. You can immediately apply powder on your client with light strokes using a brush with very soft, loose longer hair. The powder application should only take 45 seconds or so for complete body coverage. It's very easy to apply and will not hurt the spray tan in any way using this method.
We love this brush: https://thesunlessstore.com/products/instadry-finishing-brush
Customer Reviews
Oh em geee
This has got to be by far the best smelling finishing powder I've ever smelled!
11/22/2021
Anonymous

United States
Love the scent!
Getting wonderful feedback on the scent and how it takes away the "sticky" feeling instantly!