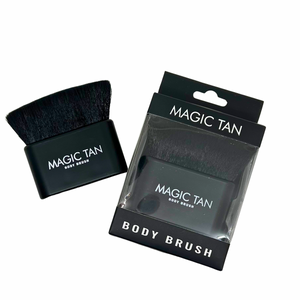 Magic Tan Blending Brush
Sale price Price $19.95 Regular price
About This Product
Magic Tan Body Brush is specially designed to blend and even out the application of spray tans or self-tanning products. Our body brush contains velvet like bristles that are specifically designed to help distribute and blend the tanning product evenly across the skin. For best results, use the Magic Tan Body Brush to buff hands, neck, collarbone, knees, ankles, feet and any creases where bronzer may be trapped.
The Magic Tan Body Brush is a MUST HAVE in your tool kit.
High-quality construction

Unbelievably smooth on the skin glides like silk to provide the perfect finish
Quality handle for easy grip
Tightly packed like a Kabuki brush
Bristles - 3 1/4 inches wide x 1.4 inches high x 1.2 inches deep
Plastic Handle – 70mm wide x 40mm high x 25mm deep
Boxed
The Magic Tab Body Brush is used to:
Buff between fingers

Smooth out sharp edges on the wrist to produce a beautifully blended finish
Lightly glide over neck area behind ears, back of neck and hairline to blend or when bronzer trapped in creases
Gently blend feet and between toes (last)
In keeping with good hygiene practices ensure you wash your Body Brush between tans using a cleanser and dry using a hairdryer or compressor.
Customer Reviews
08/13/2020
Kristina B.

United States
Brush love 101!!!
I absolutely love my new black magic brush!!! So happy I ordered it. I have many other ones but the shape and make of this one is perfect!  Thank you ✨