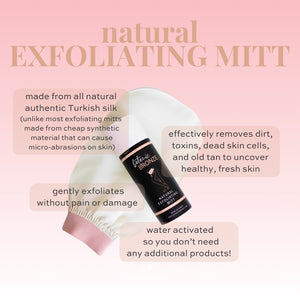 Natural Exfoliating Mitt
Sale price Price $22.00 Regular price
Our raw silk bath mitt is known as a "kesse", the traditional exfoliating tool of the legendary Turkish Hammam bath. The tightly woven silk provides thorough exfoliation, removing dead skin cells, dirt and toxins from the surface of the skin and speeding up cell regeneration to keep skin healthy and glowing. Perfect for use before a sunless tan or afterward to remove old tan.
Water-activated- No products are required!
Steps to Get Glowing (see product for full instructions):
1. Soften skin for at least 10 minutes in a hot, steamy shower or bath. The longer you allow your skin to soften, the better peel you will observe.
2. Remove your body from the water and wring out excess water from mitt. Firmly glide the mitt in a back and forth motion to create friction on the skin surface, until you begin to see exfoliation.
3. Rinse and reveal exfoliated, glowing skin!
Note: The product's natural fibers will swell with first use and the mitt will work best 2nd use and after. The mitt should be hand washed, hung to dry and can be re-used for 2-4 months, depending on frequency of use.
Customer Reviews
Best exfoliator
Packaging is cute and mitt works like a charm to remove dead skin and old tan. Clients love that it's an authentic mitt from silk, not a cheap synthetic one