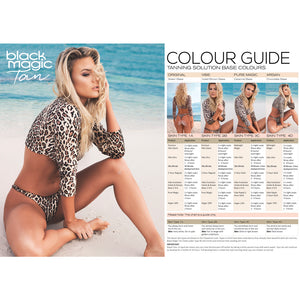 Black Magic Tan Color Guide Posters
Sale price Price $7.95 Regular price
About This Product
Offering your client the right advice on what product they need to wear is made easier using the BM color guide, offering you a wide range of Black Magic products with a skin color selection.
Some clients ask that they would like to go darker than they possibly should, with this quick reference you are able to ascertain their true skin type and then help select the best product for them to be sprayed with.
Covers the whole range of Black Magic colors to ensure that you give the best advice to your clients.
Two Posters Per Order
Poster Size is A2 (16.53 inches x 23.39 inches)