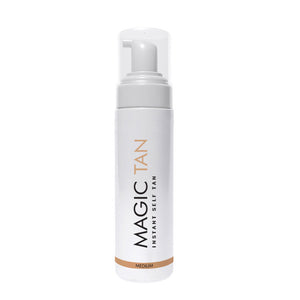 Magic Tan Medium Self Tan Mousse
Sale price Price $29.95 Regular price
About This Product
Experience the fantastic colour, feel and finish of a Black Magic Professional Tan in an easy to apply self tanning mousse.

Amazing colour, features a green base making it the perfect self-tan for fair to medium clients seeking a beautiful natural looking tan.
Magic Tan Instant Self Tan is a green based, free of Infused with Witch Hazel, Anti-Aging Green Tea Extract, Hydrating Aloe Vera and Wattle Seeds Black Magic Mousse will deliver a beautiful, streak free tan
Professionals: Order in bulk to save!
Directions For Use
For a perfect tan exfoliate well prior to use and apply to clean dry skin.
Moisturize dry affected areas such as heels, knees, and elbows. Pump mousse onto the application mitt then using a circular motion apply evenly.
Skin should be touch dry before dressing.
Development Time:
2-8 hours depending on skin type.
NB: the colour of your tan will be fully evident after 12 hours.
Upon Completion of Development Time:
Take a warm shower, lightly pat skin dry.
Post Development:
It is recommended after 12 hours you moisturize twice daily for beautiful glowing skin.
* Application Mitt / Application Glove not included.