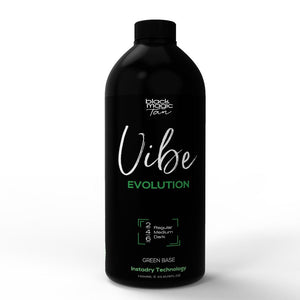 Black Magic VIBE Evolution Green Based 2-6 Hr
Sale price Price $89.95 Regular price
Vibe green base works harmoniously with your skin to capture your bodies natural colour and boost it with amazing results.
Vibe Green base will counteract any pink hue that your skin will throw leaving you with the most natural looking tan.
Vibe professional tanning solutions slip over the skin like velvet transforming it into absolutely stunning colour without any fragrance or smell. Instantly dry to the touch Vibe delivers the ultimate client experience.
The characteristics of the Vibe range are unlike anything else on the market.
If you want to build clients then this is the tan for you.
Vibe contains triple bronzers to give you deeper, instant colour, longer. Be prepared though – people often stop consumers to comment on their fabulous tan!
Add it to your salon today and be confident your client will love it.
Features and benefits include:
• Green Based
• Instant Colour
• Triple Bronzers
• Enriched with antioxidants and botanicals
• Hydrates and nourishes
• Odourless
• Exceptional Drying
• Non Sticky
• Lasts 7 – 10 days depending on skin condition.
Directions For Use
This product is designed for use in all HVLP/airbrush systems
Place your machine on a medium speed to high speed
Place approximately 4 oz of Vibe Evolution into the cup of your spray gun. Excess solution can be poured straight back into the bottle after use.
Your spray gun should be set to ensure a light, even mist falls on the skin. If the gun is up too high you are wasting tanning solution and the clients tan could overdevelop.
Apply two light even coats of Vibe Evolution tanning solution. 
Customer Reviews
Excellent buy
The option of development time is perfect.
06/20/2022
Anonymous

United States
excellent choice
Color base works well with my fairer skin. No irritation. Customer service is superb.