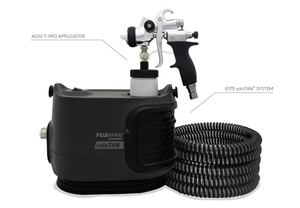 Fuji 6175 soloTAN with T-Pro Applicator
Sale price Price $469.00 Regular price
Introducing the next generation of Fuji Spray® sunless systems: the soloTAN™ combines modern technology and sophisticated design to bring your clients the perfect tanning experience. The soloTAN™ is the new standard for exquisite tanning systems.  Designed for entry-level technicians and on-the-go artists, the soloTAN™ system is created with a curved silhouette just like your everyday satchel for a sleek, mobile, and lightweight advantage.
Key Features:
Lightweight and ultra-portable – less than 5lbs
Sleek and elegant design
Convenient applicator storage
Features both a padded handle and shoulder strap for easy transportation
Easy power cord storage
Featuring Fuji's flagship applicator – The T-PRO Bottom Feed (#4200)
Applicator designed for full-body tans and contouring
Specifications:
Interchangeable bottom feed cup – 250cc capacity
10ft Hi-Flex™ Lightweight Hose
120V for North American use
12-month warranty – parts and labor
Recommended Use – 5-10/day
Customer Reviews
04/21/2021
Anonymous

United States
Absolutely AMAZING
My experience was absolutely amazing! Shipping was fast! I must mention my machine was packed perfectly!!! I highly recommend!!!
04/21/2021
Anonymous

United States
Solo Tan
I would like to talk to someone about this. The machine is running very hot even after two sprays and the tubing is not long enough so that I can't use what's at the bottom of the cup which is still a lot. I'm a little disappointed with this purchase.