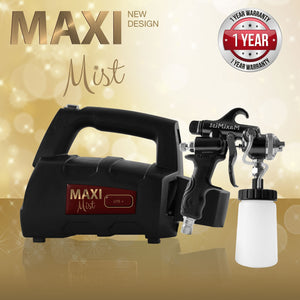 MaxiMist™ Lite Pro
Sale price Price $359.00 Regular price
MaxiMist™ Lite Plus PRO Spray Tanning System
Performance on a Budget from a Brand you can trust
The MaxiMist™ Lite PRO Spray Tanning System is the recommended unit for home use or the budget conscious mobile tech or salon start up. Rated for 10+ applications per day (or 60 per week)
Simply put, if you're looking for performance on a budget, The MaxiMist™ Lite Pro delivers without compromise
MaxiMist™ Lite Pro Features and Specifications
CE, EU, ECAL Certifications
Powerful 300 Watt Turbine 110 v only, 75DB
11.5ft/3.5m Hose w Quick Connect (remove from gun to blow dry)
Pro Series metal Spray Gun with 8oz/250ml Cup
On Board Spray Gun Storage
1 x Spare Turbine Filter
Detailed Instruction Manual
1 year warranty on Turbine
Rated for light salon or mobile use (10 uses a day or 60 uses a week)
 The MaxiMist™ Pro Series Spray Gun
The MaxiMist™  Lite Pro Series Spray Gun is extremely lightweight compared to other Pro type spray guns.  The entire gun is made with Lightweight Air Craft Grade Aluminum providing many years of service with ease of care.
The MaxiMist™ Pro Series Spray Gun is combined with a .05mm Stainless Steel tip and needle assembly that provides unparalleled Tanning Solution atomization giving a flawless application with the least amount of over spray.
The MaxiMist™ Pro Series Spray Gun also features a 'Duck Bill' intake valve to control solution back flow instead of the standard check valve. Check valves clog easily and cause many spray guns to simply not spray. Our unique Duck Bill eliminates this issue forever.    We include an extra in your spare parts kit.
With a Cool Grip ergonomic handle the MaxiMist™ Pro Series Spray Gun is simply a pleasure to use.
(representative image only, latest gun version handle appearance differs slightly)
Simple adjustments for both spray pattern width as well as vertical and horizontal techniques and air flow allow you to precisely control the spray pattern to fit your method and will apply any tanning solution with flawless precision.
The MaxiMist™ Pro Series Spray Gun features an EZ Flip adjustment knob that allows you to quickly dial into "Airbrush" mode for touch ups and contouring.  (representative image only, latest gun version knob appearance differs)