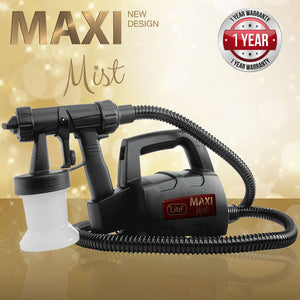 MaxiMist Lite Plus
Sale price Price $219.00 Regular price
MaxiMist™ Lite Plus Spray Tanning System
Performance on a Budget from a Brand you can trust
The MaxiMist Lite Plus – Spray Tan Machine is the perfect unit for home use as well as the budget conscious mobile tech or salon startup.
The MaxiMist™ Lite Plus features a powerful 300 watt Turbine and the Spray Gun features a German engineered spray nozzle that is designed to provide maximum atomization with the least amount of overspray possible. German engineering at its best!
The MaxiMist™ Lite Plus Spray Gun is super simple to use, extremely lightweight and incorporates a Non-Stick needle that virtually eliminates tanning solution buildup and corrosion which lead to clogs. Simple adjustments at the trigger allow you to control the spray pattern and will apply any tanning solution with flawless precision. 
The MaxiMist™ Lite Plus also includes our specially designed cups which feature a conical solution reservoir for optimum pick-up. This design forces all solution in the cup to the center allowing a more flexible range of movement while spraying. With an extra wide base for improved stability, we think our cups are now better than ever
The MaxiMist™ Lite Plus package includes two (2) extra cups with airtight lids allowing you to change Tanning Solutions between applications without the need to empty and refill.
Simply put, if you're looking for performance on a budget, The MaxiMist™ Lite Plus delivers without compromise
---


MaxiMist Lite Plus Features and Specifications;
CE, EU, ECAL Certifications
Powerful 300 watts single stage turbine 47cfm air flow, 110 v (USA only)
6.5ft/2m flexi-Hose (remove gun from hose to Blow Dry)
Lite Plus Spray Gun w/5oz/150ml Cup
On Board Spray Gun Storage
Two (2) Extra 5oz/150ml Cups w/Lids
Spare Spray Gun Cup Gasket and Pickup Tube
Spare Spray Gun Nozzle Gasket
Spare Turbine Filter
Detailed Instruction Manual
Rated for light salon or mobile use (10 uses a day or 60 uses a week)
1 year motor warranty
Weights 2kg/5 lbs
Model: ST610