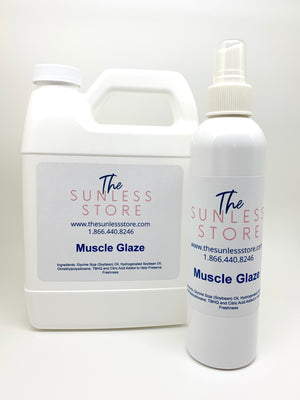 Sunless Store Muscle Glaze and Posing Oil
Sale price Price $19.95 Regular price
Description
Directions
More Info
About This Product
Black Magic Muscle Tan Muscle Glaze/Posing Oil was created specifically for the bodybuilding industry 
Contains Emulsified Soy Oil
Hydrates
Gentle on the skin
Moisturizes
Enhances muscle definition & body contours
Odorless
Fast-drying, no tacky feelings
Directions For Use
Apply 10-30 minutes before going on stage.
For best results apply with an HVLP Sprayer, or may be sprayed on manually and blotted with a soft cloth.
Because each suit is made with different material, we can not guarantee that this will not stain your suit. Use with caution. 
Key Points to Remember
Beneficial for the Skin
Black Magic Muscle Tan Muscle Glaze/Posing Oil contains nothing more than emulsified Food Grade Soy Oil. 
Soy Oil
Soy is naturally rich in Vitamin E, essential fatty acids, and lecithin which benefit the skin when applied topically. Topical application of Vitamin E has been said to promote healing and regeneration through its antioxidant properties.
Vitamin E - Tocopheryl Acetate
Vitamin E is a potent anti-inflammatory ingredient with excellent moisturizing ability. Vitamin E is an antioxidant that protects body tissue from damage caused by free radicals.

Skin Care Benefits include:
Potent anti-inflammatory
Helps to protect the skin from UV damage.
Improves the skin texture and the moisture content in the skin.
Reduces the severity of sunburns.
Increases the effect of sunscreen ingredients.
Inhibition of lipoperoxide associated skin disorders
How Does Your Muscle Glaze or Posing Oil Stack Up?
We believe that when you compete, your Tan and the products used to enhance your Tan should not only look amazing, but that they should not be harmful to you. We actually care about what goes on your skin. 
Customer Reviews
07/04/2021
Anonymous

United States
Muscle Glaze
No real feelings about the Muscle glaze. I am getting my supplies now / early for my November 20th show. The last debacle for my June 5th show. The sunless store ran out of bodybuilding tan. So I am stocking up early so I will not disappoint my contestants/ clients this time by not having supplies.