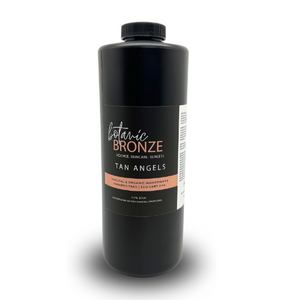 Tan Angels
Sale price Price $69.00 Regular price
Description
Directions
More Info
About This Product
Tan Angels Premium High Definition Spray Tanning Solutions were created for the Dark Tan Enthusiast. Tan Angels HD has a Super Dark Bronzer and the truly brown results are sure to impress! This amazingly versatile solution can take you from sun-kissed to competition ready in no time at all! This is one of the darkest bronzers on the market! In this age of technology where everything is done in High Definition it's important that your solution is camera ready! For a sun-kissed glow- For a Light Tan Single coat your customer with Tan Angels HD. 

Tan Angels is for those who love to be Dark! This color is great for most skin types.
Key Benefits 
Dark Color Guide
11% DHA
No Scent
Paraben Free
Formaldehyde Free
Anti-Aging Green Tea Extract
Infused with Antioxidants, Argan Oil & Aloe Vera
Cruelty Free
True Ethanol Free
Propylene Gycol Free
Hydrating
No Alcohol Added 
Will not stain clothing, however, we always recommend wearing casual loose clothing after your spray tan.
Directions For Use
This product is designed for use in all HVLP/Airbrush systems 
Place your machine on a medium speed to high speed
Place 4 ozs Tan Angels into the cup of your spray gun. Excess solution can be poured straight back into the bottle after use.
Your spray gun should be set to ensure a light, even mist falls on the skin. If the gun is up too high you are wasting tanning solution and the clients tan could overdevelop.
Apply two light even coats of Tan Angels solution for a flawless tan. 
For a Dark Angel Tan- Double Dip your customer. Allow customer to dry between dips.​
For a Competition Tan- ​​Triple dip your customer allowing them to dry between coats. Have your customer wait 8-10 hours then clear rinse and repeat process the following day.
Key Points to Remember
Tan Angels Premium HD Solutions contain 11% DHA and are infused with Natural Ingredients that are great for your skin. Allow at least 8 hours before showering.