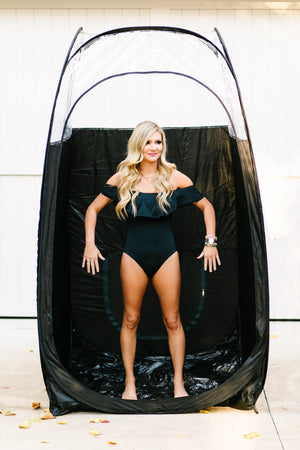 Titan XL Pop Up Spray Tanning Tent
Sale price Price $89.00 Regular price
Titan XL Pop Up Spray Tanning Tent Features:

Unbranded and solid black in color.
Durable, clear top to allow for maximum light.
Generous Size from top to bottom! 7 feet tall, with a 6ft opening, this tent does NOT taper in at the top, like most tents. It is 4 feet wide, top to bottom, allowing your client room to move without hitting the sides of the tent!
Built around a high-gauge, low-memory spring steel frame. It is strong but flexible and resists out of shape problems. *As with any pop up tent, caution must be used while collapsing to avoid tweaking the frame.
Built-in, waterproof floor catches solution over spray, protecting carpet and flooring. It is easily maintained by wiping clean after each use.
An opening is provided for placement of an overspray extraction fan or air cleaner. 
Feet with exterior loops have been added in the bottom corners, to allow the tent to be secured to the ground with metal stakes (included) or to be weighted down in the corners.
Comes with an oversized carrying bag with shoulder-length straps for easy portability. The carry bag features The Sunless Store logo.